Multiple commercial trials prove the PIC®800 sets the pace for today's Duroc sire performance, consistently producing offspring with superior robustness and fast, efficient growth. In addition, taste panels revealed that meat from PIC®800 pigs was favored over Duroc meat from competitive sires, supporting packer demands for high meat quality.

Assessing PIC®800 progeny performance and economics
Six comparative trials were conducted in commercial conditions using 8,800 pigs.
Trials were conducted across different systems in North America to assess the performance of the PIC®800.
Trials used commercial pigs birthed by PIC Camborough® sows.
Sires were either PIC®800 or competitor boars.
Each trial had a specific goal that drove the trial endpoint:
Trials 1, 2 and 3 evaluated pig performance from wean to closeout.
Trials 4 and 5 evaluated pig performance in the grow-finish phase through closeout. Pigs were housed in a commercial nursery, then on-tested for grow-finish performance evaluation.
Trial 6 evaluated carcass traits only.
Duroc piglet performance that drives profitability
PIC®800 offspring are more economically valuable than competitor progeny. PIC®800 delivers more full value pigs, superior growth, competitive feed efficiency and high-quality Duroc meat. The result is an economic advantage between $2.14 and $8.64 per pig placed.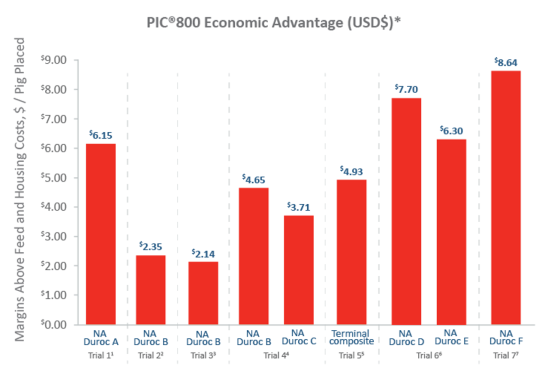 Robust pig performance
PIC®800 consistently sired more robust offspring for easier management and greater throughput. PIC®800 produced the most full value pigs out of all competitors. PIC®800 also produced offspring with a numerically higher survivability rate demonstrated in four trials.
Robustness advantages translate to commercial swine operations. Wean-to-finish customer closeout data from 2019 to 2020 shows PIC®800 progeny have survivability rates well above U.S. benchmarks.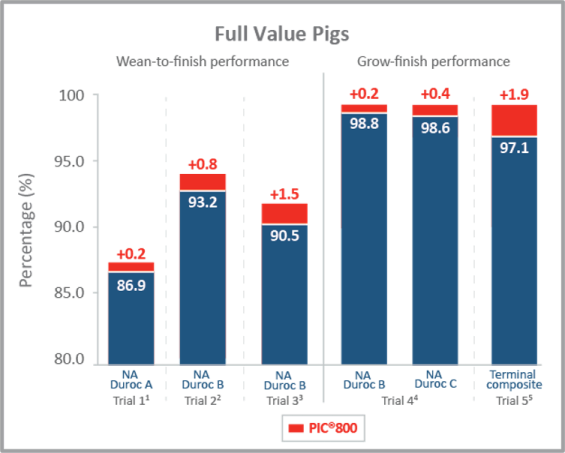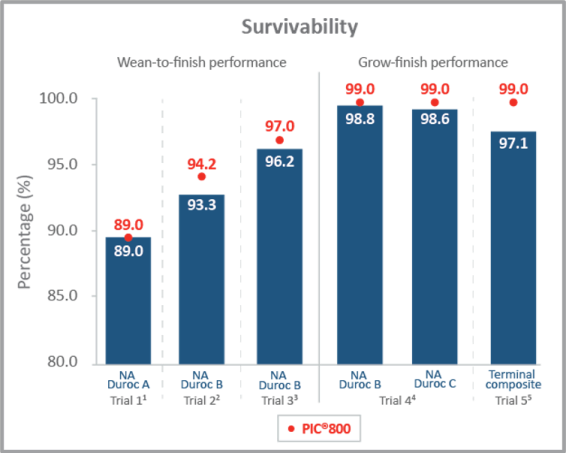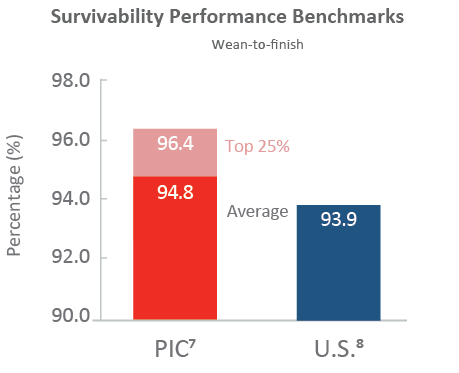 Read about the PIC®800 advantage in pre-wean survivability here.
Efficient, fast pig growth
Growth rate and feed efficiency are key drivers of higher profitability. PIC®800 pigs excelled at both, achieving high growth rates without sacrificing feed efficiency. No other sire line had faster-growing pigs than PIC®800, statistically or numerically.
PIC®800 pigs also had competitive feed efficiency with a numerical advantage in four trials. Fast, efficient growth is apparent in commercial customer operations. The top 25% of wean-to-finish customer closeout data from 2019 to 2020 shows PIC®800 progeny perform better in average daily gain compared to U.S. benchmarks.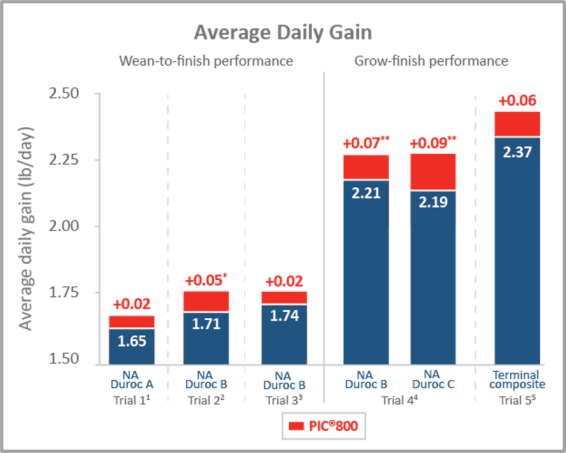 Excellent Duroc meat quality, competitive carcass value
PIC®800 progeny have proven carcass performance and pork quality. A U.S. consumer taste panel with 126 panelists compared four industry-leading Duroc sire lines, all reared and harvested in the same environment. Panelists favored pork from PIC®800 pigs, revealing that loin samples were more tender and juicy.
Across six comparative trials,[1] PIC®800 showed strong performance for carcass lean and back fat, meeting or exceeding industry standards.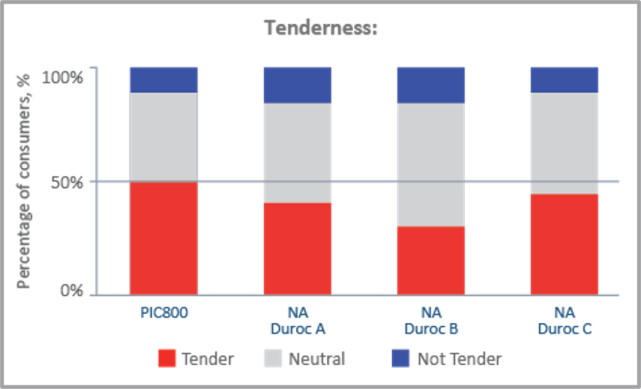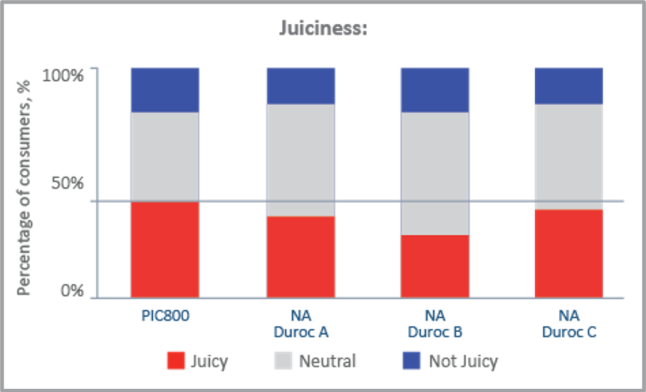 PIC continues to invest in swine genetics improvement to achieve these gains. For example, PIC increased the PIC®800 Elite Farm sow population by ten times since 2013, creating a larger population for a greater selection pool of the best animals. Then in 2018, PIC added differentiated germplasm for a more diverse genetic library from premier Danish breeder, Møllevang.
These combined investments deliver faster swine genetics progress in commercial settings through the GNXbred program, proving pork producers can realize genetic gains on-farm sooner.
When you choose the PIC®800, you can realize tangible economic advantages now and in the future.
Contact your PIC account team for more information.
---
[1] ES ES 124, ES 133, ES 147, ES 150, ES 144, ES 154, ES 170