Proven Duroc sire has shown up to $6.15 economic advantage per pig.
By Luis Zaragoza, Ph.D., PIC Product Analytics Director and Isaiah Spath, PIC Product Validation and Wean-to-Finish Technical Services
There's no place for mystery when it comes to sire performance. It should be the opposite – proven, consistent and profitable. The PIC®800 checks all the boxes and, at up to a $6.15 economic advantage per pig, is setting the bar for Duroc sire performance.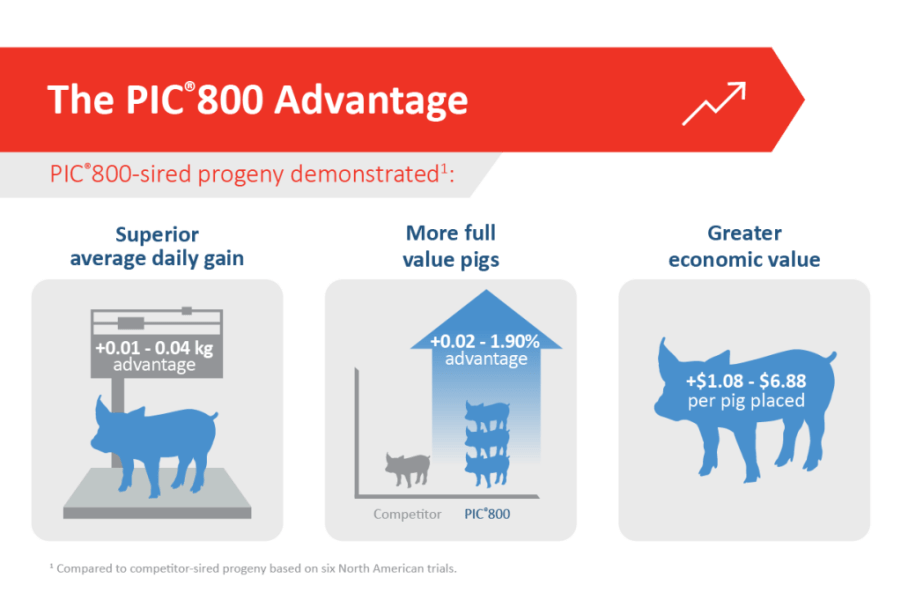 Here are four reasons why swine producers around the world are choosing the PIC®800 for their programs.
1. Demand is rising for Duroc meat.
As consumers continue to demand a better pork eating experience, pork quality has grown in importance across the industry's value chain. Duroc popularity has risen in response since the breed is known for consistent pork quality and on-farm performance.
The PIC®800 meets the growing demand for Duroc pork. This sire is proven to deliver a high-quality eating experience through taste trials. In addition, PIC is continuing to improve pork quality by selecting for loin pH, color, marbling and tenderness, all traits correlated with improved consumer satisfaction.
2. PIC®800 has consistent commercial performance validation.
Five recent comparative commercial trials[1] demonstrated PIC®800's advantage in efficient growth, robustness and profit potential.
Efficient growth
Increasing growth rates often come at the expense of feed efficiency, yet both are important for profitability.
PIC®800 delivers both. In recent trials, PIC®800 progeny had an average daily gain advantage of 0.02 to 0.09 lb; and a competitive feed conversion ratio with an advantage in four trials.
Strong robustness
Robust pigs remain resilient in challenging conditions, an especially important trait for operations with disease pressure.
PIC®800 progeny power through challenges. In recent trials, they had a 0.2% to 1.9% advantage in full value pig rates over all competitor sire lines.
A complete package
PIC®800 provides consistent advantages across growth, feed efficiency and robustness.
These consistent advantages add up. In each trial, PIC®800 demonstrated a significant economic advantage between $2.14 and $6.15 per pig placed.
3. We are focused on future genetic gains.
A sire may excel in growth rates, robustness or total carcass value today, but it's important to look at where that performance could be in the future through realized genetic gains.
Genetic trends at PIC Elite Farms show improvement in growth, feed conversion and survivability. From 2016 to 2020, weight per day of age saw a genetic trend improvement of more than 0.06 lb and survivability increased by 0.5%[2].
We achieve these accelerating genetic trends through continued investment in genetic improvement. For example, PIC®800 elite sow population has increased by ten times since 2013, meaning a larger population for a larger selection pool of the best animals. PIC introduced relationship-based genomic selection in 2014, which has accelerated genetic gain by 35%. Additionally, PIC added differentiated germplasm from a relationship with premier Danish breeder, Møllevang, in 2018.
These combined investments deliver faster genetic progress, so you can realize genetic gains on-farm sooner.
4. Our team is here to help.
PIC has a boots-on-the-ground technical team with years of production expertise dedicated to your success. We are ready to work with you to discuss opportunities, facilitate on-farm trials, monitor performance or simply provide a fresh perspective.
Ready to de-mystify your sire line genetics and put their performance to the test? Interested in looking at more in-depth PIC®800 trial data? Connect with us here.
---
[1] Reference: ES 124, ES 133, ES 147, ES 150, ES 144
[2] Sourced from PIC North American Elite Farm Genetic Trends.
---