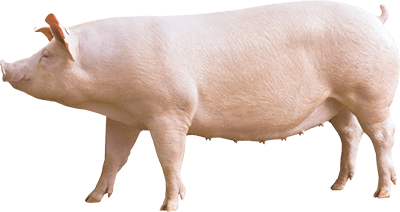 The Camborough® is the world's highest-performing sow in any environment. She is the ideal choice for a low-maintenance, high-performing breeding sow that yields heavy pig birthweights and more quality weaned pigs.
She is predictable, easy to manage and comes with PIC's commitment to customer success through economically relevant breeding guidelines, unrivaled technical support and a healthy supply chain.
More pigs weaned, less sow feed
The Camborough® combines feed efficiency with heavier pig birthweights, bringing a new level of breeding sow productivity to your operation.
Feed accounts for 30% of the cost of a weaned pig. The Camborough® eats 220 lb less feed per year than competitor sows, so she saves you money.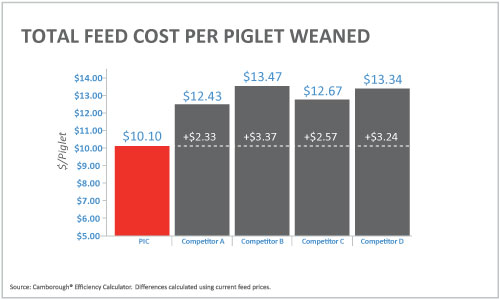 "The PIC Camborough® is a sow that can hold her body condition in gestation and farrowing. She stays in condition without a lot of feed, and she does so easily."

– Fred Kuhr, Production Director at Dykhuis Farms
The Camborough® continues to farrow heavier pigs, supporting survivability, greater lifetime growth rate and improved feed conversion. She continually weans quality piglets at heavier weaning weights, with less variation in groups at weaning.
Earlier, easier gilt and sow breeding
The Camborough® helps improve your breeding sow program by combining earlier breeding and obvious signs of estrus.
The Camborough® can save you up to $2 a day because she can be bred at 210 days and 300 lb, up to 50 days sooner than competitor gilts. With a short wean-to-estrus interval, she can drive your herd efficiency with more lifetime production days.
Robust, easy to manage breeding sow
PIC selection and testing strategies continually improve sow feet and leg scores, making the Camborough® a robust, high-performing sow in any environment.
The Camborough® raises her litter with minimal need for interventions or nurse sows, saving you time and money. At PIC Elite Farms, 98.6% of gilts had 14+ functional teats, which allows the Camborough® to wean heavy, healthy piglets without the need for more labor.
"The quality and quantity of pigs the PIC Camborough® brings to our operation are second to none. This sow is an excellent mother. She has a gentle nature when caring for her piglets, paired with milking ability as good as I've seen." – Steve Horton, Sow Farm Supervisor at Thomas Livestock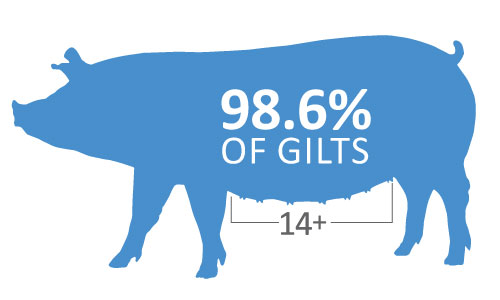 Never stop improving your breeding sow program with the PIC Camborough®. Read about the best time to breed the Camborough® for optimal performance.