Successfully implementing a sow feeding program in a pork production system requires collaborative efforts from multiple teams.
Focus on these critical points:
A well-designed sow feeding program
Effective communication throughout the pork production system
Periodically evaluate sow feeding program implementation
Dietary nutrient specifications and the feeding program match to meet nutrient requirements
PIC has developed a series of tools to facilitate sow feeding program implementation by helping pork producers address the aforementioned points more easily and efficiently. Click below to see these tools and download for use to support sow productivity on your farm.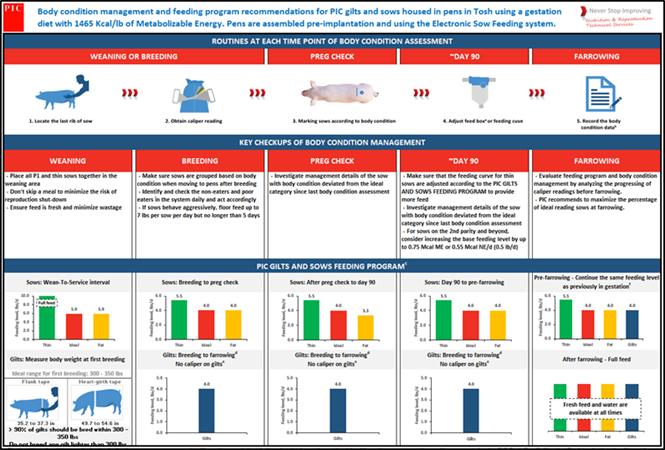 Goal: Generate a customized sow feeding program and facilitate its implementation to maximize sow productivity
Highlights:
Applicable to sow farms using both individual stalls and group sow housing systems
Minimum amount of information to input
Generate a visualized sow feeding program that is customized based on given information
Key checkups of sow body condition management are also provided
Poster printout available to help employees with implementation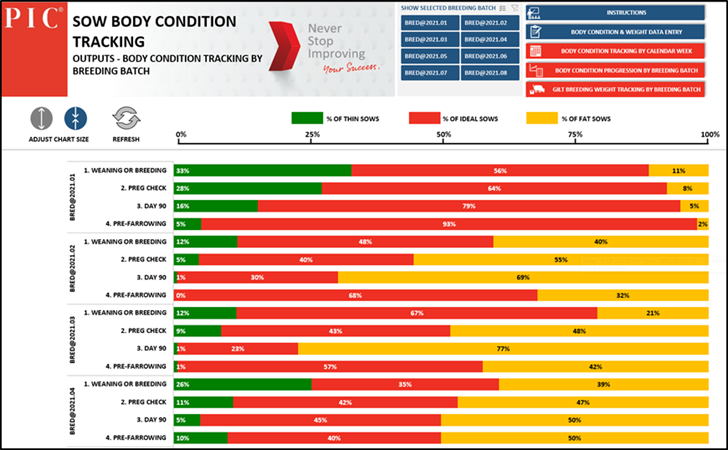 Goal: Monitor sow herd body condition changes throughout gestation and evaluate body condition management visually
Highlights:
Simple data input using the sow body condition score records from each calendar week
Provide various ways to visualize sow body condition management

Sow herd body condition status for each week
Body condition of the same group of sows at each time point throughout gestation
Visualize the changes of body condition distribution throughout gestation

Enforces timely identification of sow body condition risks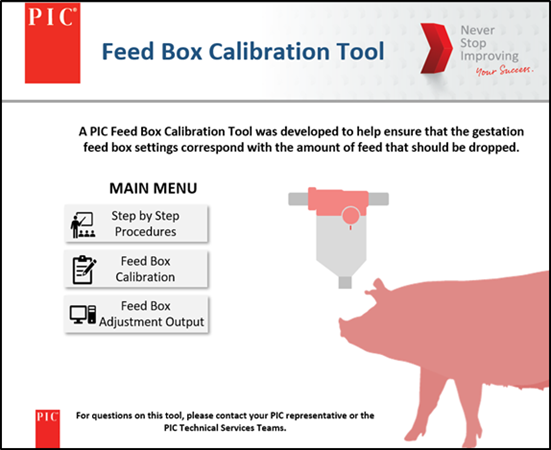 Goal: Ensure that the gestation feed box settings correspond with the amount of feed that should be dropped
Highlights:
Provide straightforward and deliberate procedures to collect data for calibration
Simple data input and all calculations done automatically
Concise output giving clear directions for calibrating feed box settings
A PDF report can be printed out to facilitate calibration in the barn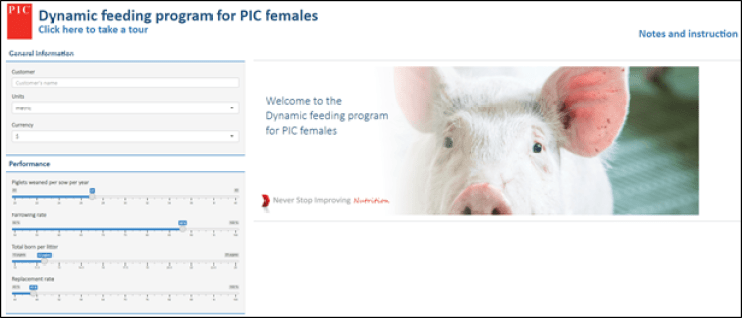 Goal: Provide feeding recommendations and the corresponding nutrient specifications for PIC maternal dam lines throughout production. Aid producers in their nutrition/feeding program decision-making process considering productivity and profitability outcomes.
Highlights:
A web-based tool that contains a user-friendly interface and flexible accessibility
Available in Metric and Imperial and Me or NE energy systems
Many farms already collect required information, and default inputs are provided if data is unavailable for collection
Customized feeding program and dietary nutrient level suggestions
Estimates sow productivity and profitability differences with current against PIC recommended feeding program
A comprehensive PDF report can be printed out to keep all information together
Looking for more PIC resources?
Read PIC's tips on implementing a successful sow feeding program here.