California voters approved Proposition 12 in 2018 with swine provisions supposed to take effect on January 1, 2022. However, enforcement has been delayed and it is uncertain when it will begin. Proposition 12 states that all offspring sold in California must follow the redefined sow housing guidelines. The guidelines have not been finalized yet, and the industry is still interpreting what these guidelines mean to producers.
Details about Proposition 12 
Proposition 12 requires 24 square feet of usable floor space per animal to all gilts at breeding, weaned sows, and gestating gilts and sows, but does not apply to cull sows. Exceptions to the rule include when sows are being transported, used in research, individually treated, immediately prior to slaughter, 5 days prior to the expected farrowing date, and when nursing piglets. Additionally, there is an exemption that applies to animals during husbandry practices for a maximum of six hours, not exceeding 24 hours in 30-days. 
Our understanding of the current version of Proposition 12 is that usable floor place is defined as space in which females can physically occupy. If the female cannot physically occupy the space, it is not viewed as usable.
The enforcement process remains unclear but will likely involve auditors working as third parties or on behalf of the California Department of Food and Agriculture, the regulatory agency responsible for enforcing the restrictions of the proposition. Detailed record keeping will be a critical piece to document compliance, particularly as it relates to ensuring females do not exceed temporary confinement exemptions.
Management strategies for producers 
Becoming Proposition 12 compliant is not a one size fits all approach. There are multiple ways to house sows and be successful. One option includes the use of free-access stalls within a group environment. This is a popular option among producers who are Proposition 12 compliant and requires minimal training for both employees and sows. They can be used from weaning up to farrowing, or from weaning to seven days bred or even first pregnancy check. As with all group housing, it's important to avoid mixing unfamiliar animals as much as possible to reduce stress that could impact conception rate. If remixing is necessary, avoid doing it on days 10 to 11 of gestation when maternal recognition occurs and on days 14 to 18 when placental attachment occurs.  
It is well known that an average of 3-5% pen fallout is expected with group housing. However, it is fair to speculate this may be higher given fallouts will include not only lame and sick animals, but potentially under and over-conditioned females as well. It is essential to have the appropriate space for these animals whether the space is in the form of hospital pens (within or outside of the pen) or individual crates. However, with Proposition 12, it is more advantageous to utilize hospital pens as females can only temporarily be housed in crates while receiving individual treatment.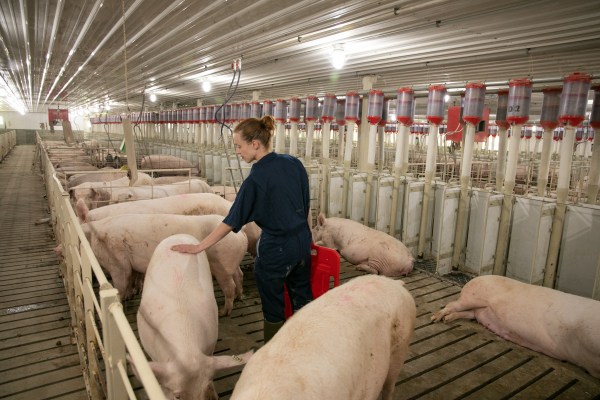 Due to space requirements, having the correct number of animals in a pen is crucial. Unproductive sows should be culled immediately. Have a plan for late weaned females and late responders to avoid providing less than the required 24 feet2.
Farms applying these changes will likely breed and house weaned sows in groups. In this scenario, group integrity will be very important to limit stressors on animals. Ensure adequate feed and water access to reduce mixing aggression. Additionally, heat checking will be different and thus require more attention. PIC recommends 1 adult boar per 30 females in a pen. If more boars are required but it is not feasible to host a second boar in the pen, consider placing him in the alley. Ensure that boars are the correct size and age and have a high libido.
Forming groups strategically will help to maximize ideally conditioned sows. When forming groups, we recommend separating gilts and sows, and separating thin females into their own groups when possible. Doing this will improve pen management and should increase ideal-conditioned females. Females should always be assessed for lameness or signs of sickness regardless of housing type. Walking pens once feed is dispensed allows easier identification of non-eaters. If a non-competitive eating system (such as ESF) is used, identify non-eaters using records and visually evaluate each. If advised by a veterinarian, treat these animals.
Conclusion: you can find success
Although challenges are to be expected as compliant systems are implemented, PIC is here to help all our producers succeed in this new experience. The swine industry has been faced with group housing challenges throughout the last decade and has found new and innovative ways to obtain high productivity. It is crucial to understand the limitations of your production system, from facility capabilities to the farm culture, to know what will and what will not work for your system.
Listen to the three-part podcast series on PIC's The Squeal. Click here for part one, part two and part three.